Five is the number of man. After all, we have five fingers and five toes….the sensors of reality…energetic decoders in a world of electro-magnetic frequency…decoding the hologram we call life.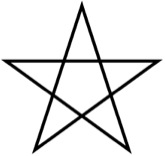 The sensations of touch, taste, colour, smell, and sound…. the vehicles of space, are the five patterns of awareness, hardwired into the physical being that we are. These five fields are the boundaries of our awareness, the limitations…..
Paradise was a place of peace, we say, and all the animals were gentle servants to us. Well, the world would yet be a place of peace if we were all peacemakers, and gentle service should we have of its creatures if we gave them gentle mastery. But so long as we make sport of slaying a bird and beast, so long as we chose to contend rather with our fellows than with our faults, and make battlefields…..